Super Soaker Evolution Tree .:
Below is a visual tree of all air, elastic, and other-pressure-based Super Soaker blasters released from 1990 on to 2009 (Nerf Super Soaker-brand water blasters from 2010 and beyond are further down the page). The image is clickable with links pointing to an enlargement of the three sub-trees. Lines connect proposed related water blasters; relationships based on styling, size, and blaster technology used. Some of the relationships are semi-subjective.
---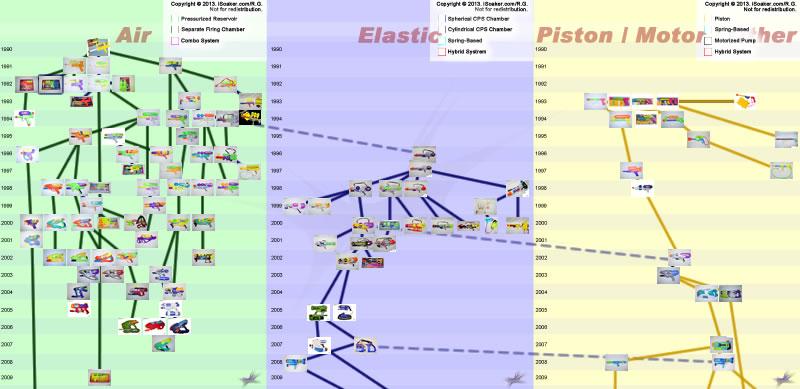 Full-size image (non-clickable jpg)
Note (20080704): Major props to Gizmodo (and peeps from Reddit and BoingBoing now, too) for pointing a bucket-load of visitors this way. Enjoy the site and soak on! For those looking for other water warfare fanatics, please check out the WaterWar.net community forums. Most of all, Leave NO one dry!
For water blasters made by Hasbro Inc. after 2009, go to the Nerf Super Soaker Evolution Tree page.
---
Related Pages
History of the Super Soaker | Products Sorted by Series (text version)
Air Pressure Series Evolution Tree | Elastic Series Evolution Tree | Other Evolution Tree