February 8, 2014 - Day 39 .:
All content and images are used with permission. Content and images are provided for personal use only. Not for redistribution.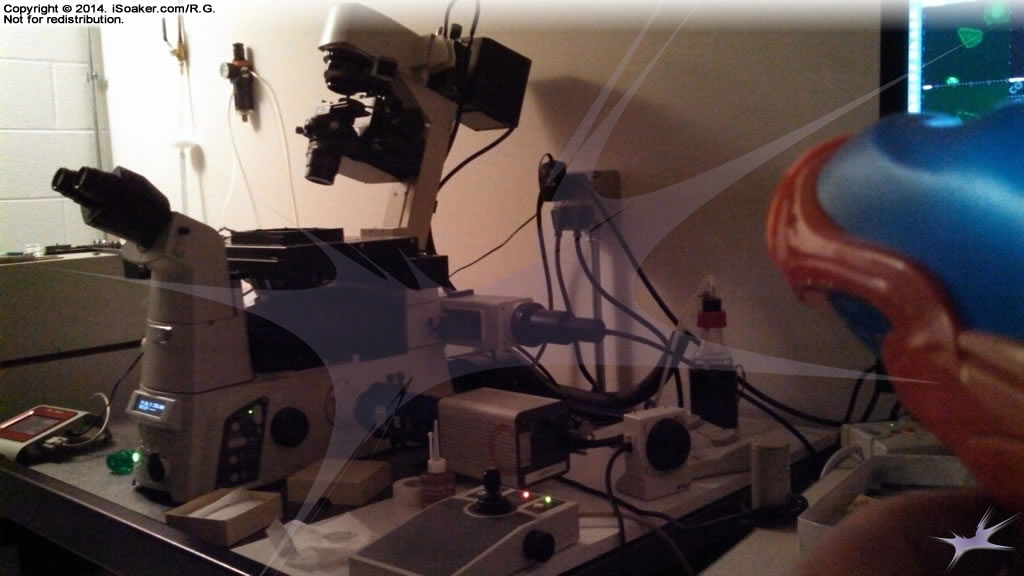 Saturday and I'm at my wife's work, helping her our with some stuff. Of course, I brought along a Water Warriors Power Shot XL along for the ride, but I know better than to soak a $50000+ piece of equipment. To be extra sure, my Power Shot XL was not filled for the above picture. That said, for those who have never seen one, this is not simply a microscope, but a scanning confocal microscope featuring a motorized stage, Perfect auto-focus, and a wide array of light sources and detectors who capturing images on a good number of fluorophores, particularly useful when labeling cell with different monoclonal or polyclonal antibodies or fluorescently-labelled fusion proteins. The image captured from a cell expressing Green Fluorescent Protein (GFP) can be seen in the upper-left of this image. If any of what I just typed makes sense to you, cool! And for those who thought I only know about water blasters, well, here's a glimpse of some of my other world.