January 16, 2014 - Day 16 .:
All content and images are used with permission. Content and images are provided for personal use only. Not for redistribution.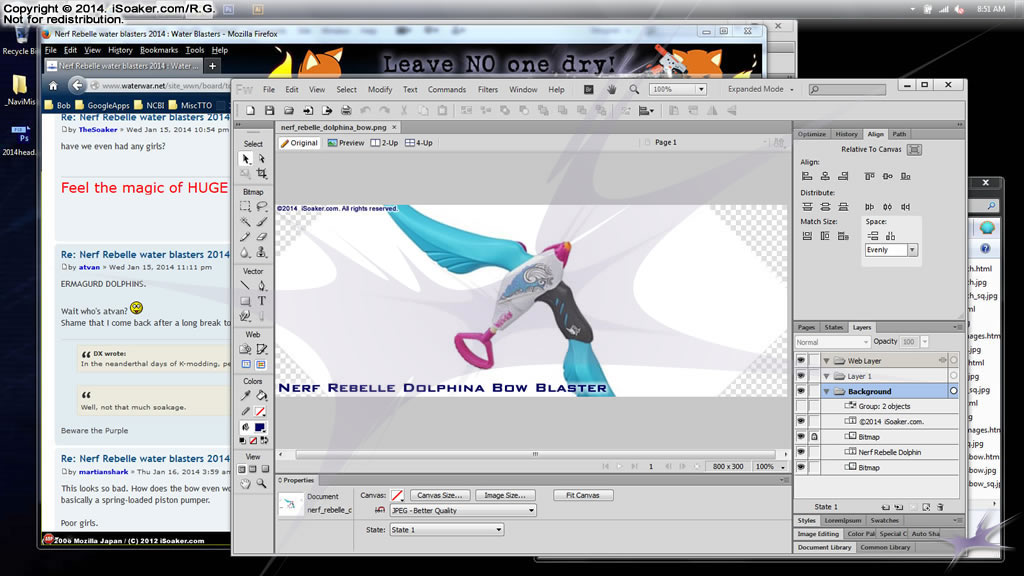 Last night I stumbled across some Nerf Rebelle-branded water blasters. While I'll give Hasbro credit for trying to draw more female users into the water warfare (and dart war) recreational activity, the type and predicted performance from the items in the water blasting-side are underwhelming to say the least. However, after posting on WaterWar.net about these Rebelle Water Blasters, I started putting placeholder pages and graphics together for these items on iSoaker.com. This morning, before beginning my real work day, I wanted to finish making some of the placeholder images. Above is a screen capture of my desktop showing both part of the WaterWar.net thread as well as the graphic for the Nerf Rebelle Dolphina Bow Blaster. I should also note that these new blasters appear to be the first major water blaster products by Hasbro Inc. that no longer feature "Super Soaker" in their name, only leaving the over-riding Nerf-brand. While perhaps "Nerf Super Soaker Rebelle" would be too many words to precede a water blaster's differentiating name, the lack of "Super Soaker" suggests Hasbro's shift away from using that brand name.
Update: My mistake - while the Nerf Rebelle website omits "Super Soaker" from the product names, the Nerf Super Soaker logo still appears on the packaging.