January 23, 2014 - Day 23 .:
All content and images are used with permission. Content and images are provided for personal use only. Not for redistribution.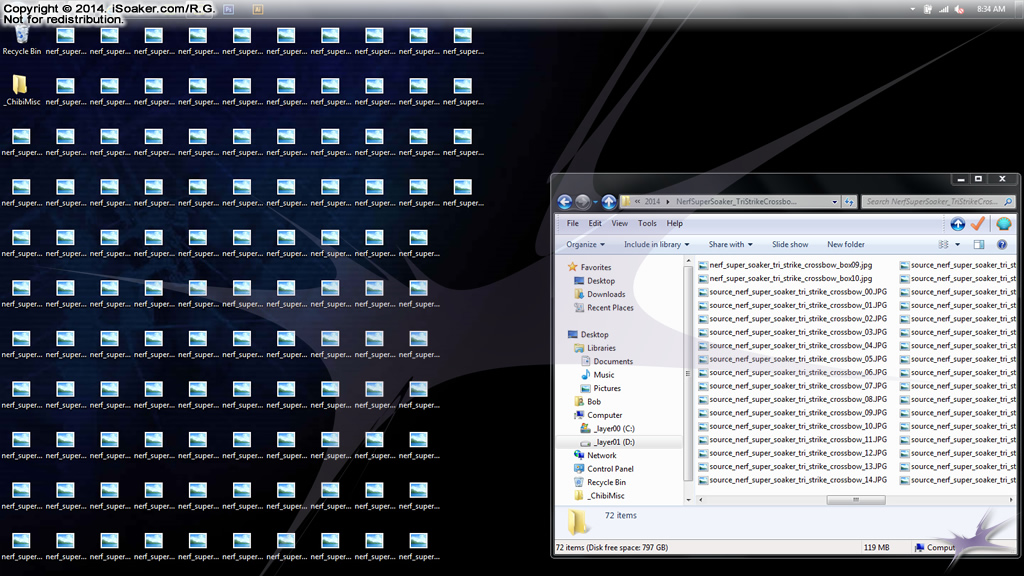 The above screenshot of my laptop's desktop is a direct result of formatting pictures I took of my recently acquired Nerf Super Soaker Hydro Storm, a Nerf Super Soaker Tri Strike Crossbow, and a Nerf Super Soaker Double Drench. While I try to take all the pictures of a particular water blaster model in a single session, depending on how many water blasters I have remaining to review, sometimes I end up staggering photo sessions between taking boxed pictures, then taking the open product shots once I am prepared to take other measurements for a full review. Of course, being still January, I won't likely get to do any water blaster range testing for a few more months, but I do like getting up as much information on new stock water blasters online before Spring to help those wanting to know what is best to buy for the Spring and Summer months.
As for why a lot of images are on my computer's desktop, while the source files are stored in an appropriate sub-directory, when I do batch formatting using Adobe Fireworks CS6, I drop the newly formatted images onto my desktop. From there, they end up being migrated into the appropriate sub-directory for the offline files for iSoaker.com. While I could batch process things to their final destination, I find that setting new processed directories everytime takes up more time than just setting the default processed file directory to "Desktop" and moving files after all the post-color-correction and watermarking are completed.