March 18, 2014 - Day 77 .:
All content and images are used with permission. Content and images are provided for personal use only. Not for redistribution.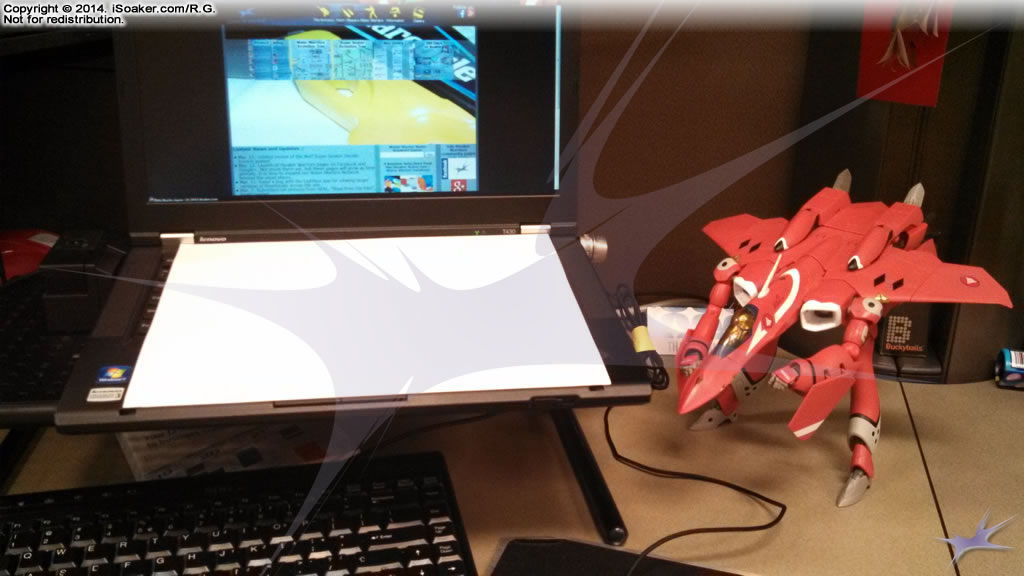 Tuesday morning at work - Miria's VF22S Sturmvogel II Valkyrie from Macross 7 still stands guard in Gerwalk mode beside my personal computer, but having already read through new posts on the WaterWar.net Forums, I opted to pop over to iSoaker.com to ensure that I had pushed up some updates. Though I hadn't planned to do so originally, I ended up opening and posting more pictures of the Nerf Super Soaker Barrage and Nerf Super Soaker Rebelle Blue Crush. I still need to finish writing up a full review for the Nerf Super Soaker Rebelle Blue Crush and I'll probably play around a little more with the Nerf Super Soaker Barrage now that it's unboxed, though I really don't expect to see any significant change in the performance I determined for it already. However, as 9:00am approaches, I do need to wrap up my fun time and figure out what work-related things I do need to complete today.
Oh, I should also note that I don't leave out my Macross Valkyries on my desk overnight. These models are somewhat delicate and not-so-easy to come by. I'd hate to have one damaged or lost. As some may have gathered, I do have a small collection of these models; not as many as I have water blasters, of course.